Breast augmentation is a very popular plastic surgery procedure, behind only liposuction. Breast augmentation can add generalized fullness to your breasts or rejuvenate your breasts by restoring upper pole volume or taking up excess breast skin after pregnancy or weight loss. Breast augmentation can be achieved using implants or fat grafting. At the time of your consultation, Dr. Li will analyze your breasts in detail and discuss whether Breast Augmentation Surgery is a good option for you.
In Breast Augmentation Surgery with implants, a space/pocket for the implant is created through a carefully chosen incision. Incisions may be hidden in the armpit, around the areola, or underneath the breast. Implants can then be placed above or underneath the chest muscle (pectoralis major). Implants placed can also be salt water (saline) or silicone, although Dr. Li recommends the latter. At CA Aesthetics, we carry Allergan, Mentor, and Sientra silicone implants to offer you the most diverse portfolio of implants. The procedure is truly customized to you, depending on your individual circumstances and preferences. Breast Augmentation Surgery can also be combined with Liposuction of the armpit area to further accentuate the breasts.
In Breast Augmentation Surgery with fat grafting, liposuction is usually performed in your torso to harvest fat, which is then processed in a specialized way to purify it before it is injected into your breasts. Tiny incisions are made to perform liposuction and inject fat into your breasts. While this method avoids the use of implants, the degree of augmentation is limited by the available amount of fat you have to transfer.
DOCTOR'S CORNER
WHAT TYPES OF IMPLANTS DOES DR. LI USE?
Generally, I recommend using smooth silicone round gel implants for breast augmentation. Saline implants are heavier, feel less natural, and have a higher risk of visible rippling and/or palpability. Therefore, silicone implants are generally superior. As for anatomic versus round gel implants, all anatomic implants have texturing on their surface and carry a risk of malrotation. Texturing, in particular, has been associated with the rare risk of breast-implant associated anaplastic large cell lymphoma (Bi-ALCL). When silicone round gel implants are placed upright, they assume a natural tear drop shape anyways, and smaller less projecting implants can create the same result of modern "fashion" breasts that breast augmentation with anatomic implants is sometimes known for. Lastly, if a patient desires more upper pole fullness, I usually prefer Mentor Xtra implants, which have a higher fill percentage of silicone and thus create a more rounded look, with or without a bra.
HOW LONG DO IMPLANTS LAST?
Modern implants are made very well, and can be expected to last many years without any issues. However, all implants are man-made objects and will not last forever. I generally advise all patients undergoing breast augmentation that they will likely have another procedure within 10-15 years to either change the implant(s) or revise their breast(s). Once you have had surgery with me, my door is always open, and I'm happy to see you on a yearly basis or more frequently to ensure that there are no issues with the breasts or implants.
WHAT DOES DR. LI DO DIFFERENTLY?
During the consultation, I take the time to consider your goals and expectations and assess your natural shape and form. I also perform in-office simulations with my sizing system. All the information is then combined to offer my best recommendations and map out a detailed surgical plan. During surgery, I have the same calculated approach and use temporary sizers to carefully ensure both breasts have the best symmetry before placing your final implants in with a Keller funnel and minimal touch technique. It is my dedication to each step of the process that ensures that you have the best results. No shortcuts are taken to enhance the aesthetics of your breasts.
KEY POINTS
SURGERY UNDER GENERAL ANESTHETIC
GO HOME THE SAME DAY (DAY SURGERY)
RETURN TO NORMAL ACTIVITIES IN 1-2 WEEKS
RESTORE FULL, PERKY, AND YOUTHFUL BREASTS
ADD FULLNESS, SHAPE, AND CLEAVAGE TO YOUR BREASTS
RESTORE UPPER POLE FULLNESS AFTER PREGNANCY OR WEIGHT LOSS
ACHIEVE A SMALL LIFTING EFFECT WIHT AUGMENTATION ALONE
SCARS ARE PLACED IN HIDDEN AND INCONSPICUOUS AREAS
---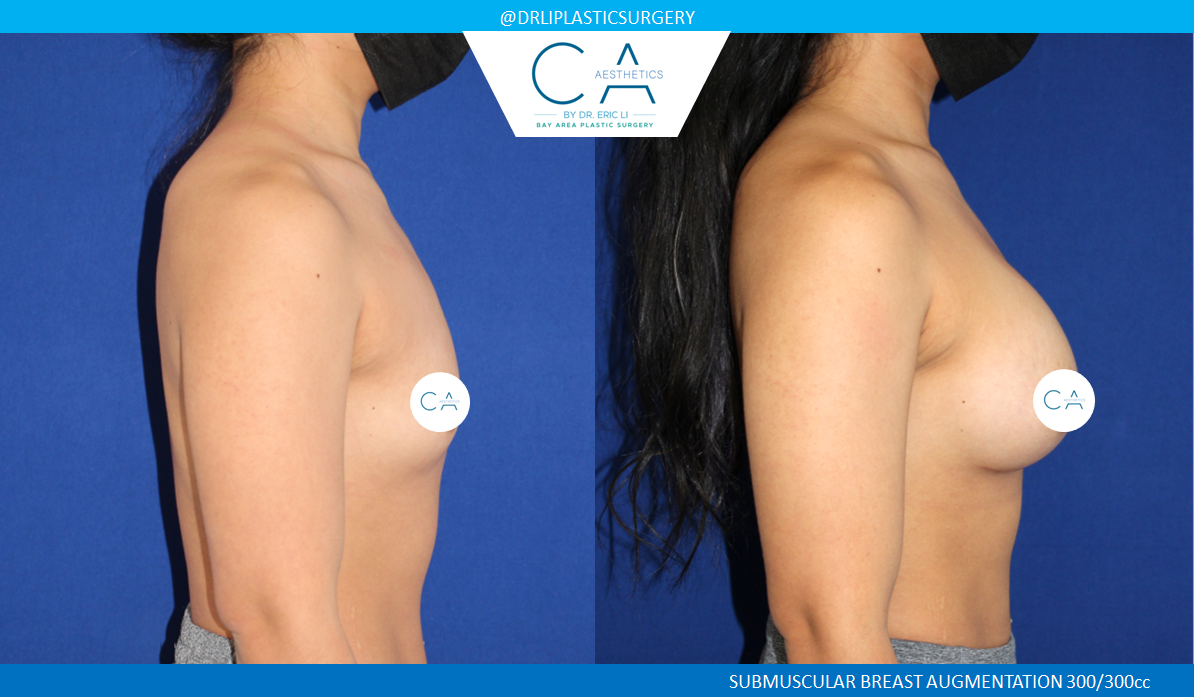 WHAT TO EXPECT BEFORE SURGERY
You will be evaluated by Dr. Li at the time of your initial consultation to determine if Breast Augmentation Surgery is the best option for you

You will be required to quit smoking and oral contraceptives 4 weeks before surgery

You will need to complete testing before surgery, which may include a physical with your PCP/primary physician, blood work, and an ECG

Prescriptions for your surgery will be sent to your local pharmacy, please obtain these medications ahead of time and bring them to your surgery

A deposit is required to secure your surgery date

Full payment is required 2 weeks before surgery; payment options include cash, cashier's check, or credit through Alphaeon or CareCredit
WHAT TO EXPECT AFTER SURGERY
General anesthesia can sometimes cause generalized body soreness and fatigue for a couple of days

Maximum discomfort will occur in the first few days after surgery and gradually improve

You will not allowed to lift more than 10lbs for 4 weeks as a safety precaution

You will be provided a bra and compression garment to wear; it is recommended that you wear this for 6 weeks to help shape your breasts and minimize swelling

You may experience temporary bruising, swelling, numbness, or a burning sensation involving your breasts and over areas you had liposuction; bruising and swelling takes several weeks to improve; numbness takes a couple months to normalize

Scars may be red and firm for approximately 6 months before they soften and fade
Breast Augmentation
Play Video
Mentor
Mentor Implant Testing
Play Video
Learn more about Mentor Breast Implants
Play Video
Mentor Implant Cut Demonstration
Play Video
Mentor Implant Testing
/ 02:20
Play Video
Learn more about Mentor Breast Implants
/ 02:28
Play Video
Mentor Implant Cut Demonstration
/ 00:55
Play Video