Revision Aesthetic Breast Surgery may be sometimes be necessary after previous Breast Augmentation or Breast Lift Surgery.
Revision procedures are often more challenging as the natural canvas of the breasts has been altered (often unfavorably). Fortunately, Dr. Li is an expert at breast revision surgery. At the time of your consultation, Dr. Li will analyze your breasts in detail to identify the presenting problem(s) and develop a tailored surgical plan to address each specific issue.
In Breast Revision Surgery cases, Dr. Li utilizes his full compendium of technical skills to fix each issue you may have. Techniques he often uses include some combination of pocket modification with or without supporting graft materials, removal of scar tissue, fat grafting to address contour deformities, exchange or removal of implants, and/or breast lifting.
Different techniques are often necessary on the two sides to restore more symmetrical size and shape to the breasts.
KEY POINTS
SURGERY UNDER GENERAL ANESTHETIC
GO HOME THE SAME DAY (DAY SURGERY)
RETURN TO NORMAL ACTIVITIES IN 1-2 WEEKS
RESTORE FULL, PERKY, AND YOUTHFUL BREASTS
RESTORE BETTER SHAPE AND SOFTNESS TO YOUR BREASTS
ACHIEVE BETTER SYMMETRY BEWTEEN YOUR BREASTS
TREAT CAPSULAR CONTRACTURE OR IMPLANT MALPOSITION
EXCHANGE OR REMOVE IMPLANTS TO BETTER MATCH YOUR LIFESTYLE
---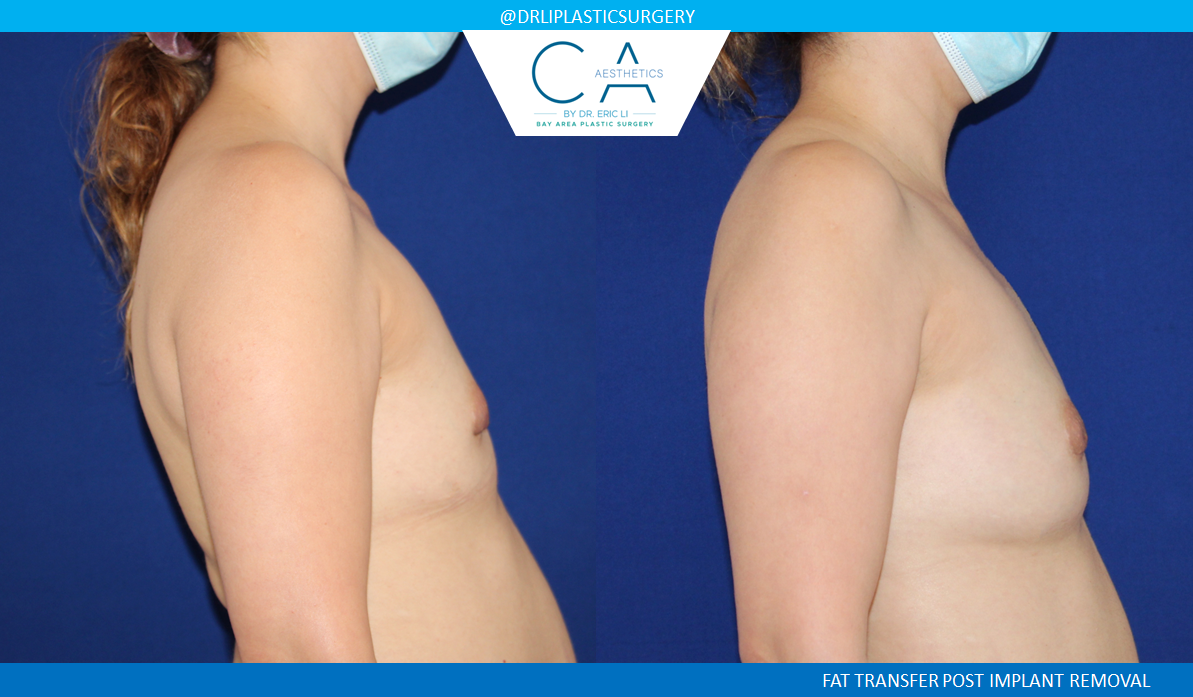 WHAT TO EXPECT BEFORE SURGERY
You will be evaluated by Dr. Li at the time of your initial consultation to determine if Breast Revision Surgery is the best option for you

You will be required to quit smoking and oral contraceptives 4 weeks before surgery

You will need to complete testing before surgery, which may include a physical with your PCP/primary physician, blood work, and an ECG

Prescriptions for your surgery will be sent to your local pharmacy, please obtain these medications ahead of time and bring them to your surgery

A deposit is required to secure your surgery date

Full payment is required 2 weeks before surgery; payment options include cash, cashier's check, or credit through Alphaeon or CareCredit
WHAT TO EXPECT AFTER SURGERY
General anesthesia can sometimes cause generalized body soreness and fatigue for a couple of days

Maximum discomfort will occur in the first few days after surgery and gradually improve

You will not be allowed to lift more than 10lbs for 4 weeks as a safety precaution

You will be provided a bra and compression garment to wear; it is recommended that you wear this for 6 weeks to help shape your breasts and minimize swelling

You may have drains after surgery and you will be given instructions on how to care of them

You may experience temporary bruising, swelling, numbness, or a burning sensation involving your breasts and over areas you had liposuction; bruising and swelling takes several weeks to improve; numbness takes a couple months to normalize

Scars may be red and firm for approximately 6 months before they soften and fade