In 50% of Asians, the upper eyelid crease can be poorly defined or absent. There may also be excess skin over the medial eye (epicanthal folds). Both these features tend to make the eye appear smaller. At the time of your consultation, Dr. Li will analyze your eyes/eyelids in detail and discuss whether Asian Eyelid Surgery is a good option for you.
The objective of Asian Eyelid Surgery is to create an upper eyelid crease and more refined appearance to the eye. The procedure can be done with the suture method, in which tiny incisions and sutures are carefully weaved through the eyelid, or the open method, in which the crease is created by surgically anchoring the upper eyelid to the eyelid lifting muscle.
If there are prominent epicanthal folds, adding Medical Epicanthoplasty Surgery can further improve the appearance of the eye. This is done by rearranging the medial eyelid skin. Lastly, in patients who also have drooping eyelids, the eyelid lifting muscle can also be strengthened at the same time (Ptosis Repair).
KEY POINTS
SURGERY UNDER LOCAL ANESTHETIC WITH SEDATION
GO HOME THE SAME DAY (DAY SURGERY)
RETURN TO NORMAL ACTIVITIES WITHIN A WEEK
SURGERY CREATES A PERMANENT UPPER EYELID FOLD
ELIMINATE EXCESS UPPER EYELID SKIN
CREATE NEW SHAPE IN YOUR UPPER AND MEDIAL EYELIDS
CORRECT SUBTLE EYELID DROOPING AT THE SAME TIME
UNCOVER AND BRIGTHEN YOUR EYES
---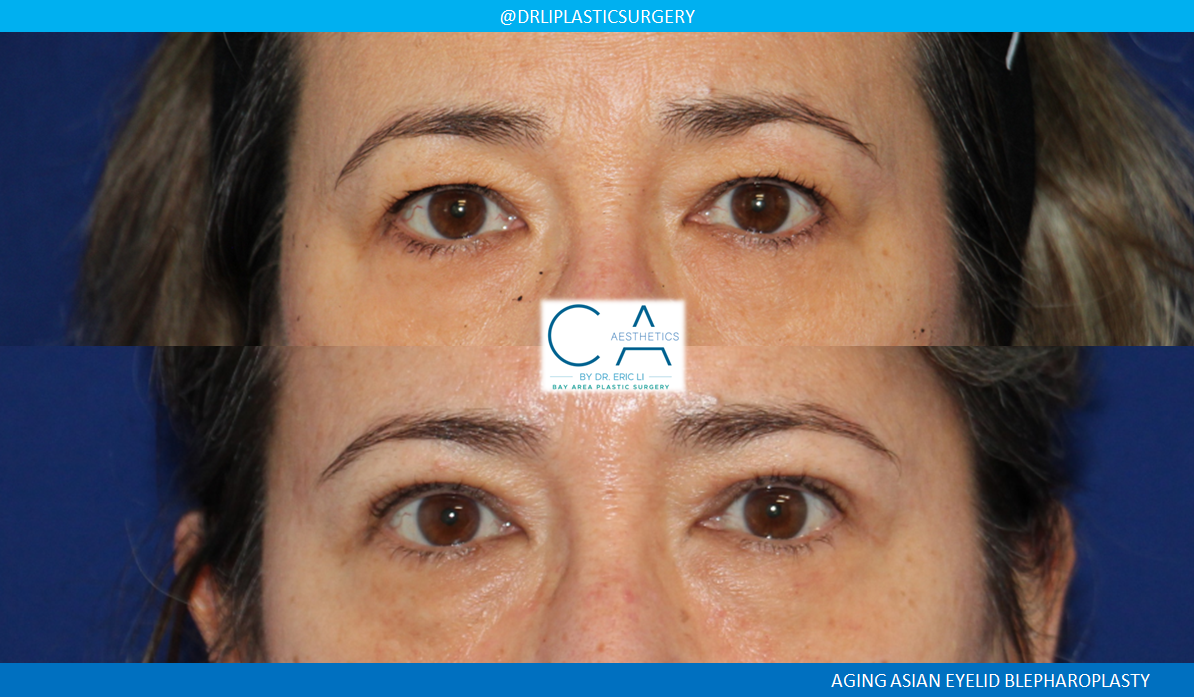 WHAT TO EXPECT BEFORE SURGERY
You will be evaluated by Dr. Li at the time of your initial consultation to determine if Asian Eyelid Surgery +/- Medial Epicanthoplasty Surgery is the best option for you

You will be required to quit smoking and oral contraceptives 4 weeks before surgery

You will need to complete testing before surgery, which may include a physical with your PCP/primary physician, blood work, and an ECG

Prescriptions for your surgery will be sent to your local pharmacy, please obtain these medications ahead of time and bring them to your surgery

A deposit is required to secure your surgery date

Full payment is required 2 weeks before surgery; payment options include cash, cashier's check, or credit through Alphaeon or CareCredit
WHAT TO EXPECT AFTER SURGERY
Maximum discomfort will occur in the first few days after surgery and gradually improve

You will not be allowed to engage in any significant exercise (e.g. running, lifting weights) for 3 weeks

You may develop temporary irritation of your eyes after surgery; this improves over the course of 6 weeks

You may experience temporary bruising, swelling, numbness, or a burning sensation involving your eyelids; bruising and swelling takes several weeks to improve; numbness takes a couple months to normalize

Scars may be red and firm for approximately 6 months before they soften and fade